Hello American Idol fanatics! Can you smell it? Smell that end of season excitement? I sure can! As enticing as it is to rip these contestants a new one or praise them week after week, I sure do look forward to taking a break from it too! But, alas, we have arrived at the top 3. And we still ask ourselves, HOW ON EARTH IS HALEY HERE?! I mean, come on, we had her pegged to leave us before the top 10! The only thing I can think of is she just got lucky. Because that personality of hers sure isn't winning her any fans. The voice, yeah it's good. But that mumbly, growly stuff she does still annoys the heck out of me! I know, we're not even into the recap yet, but what scares me is this. Now that she has made it this far, things are looking almost like a certainty that she could be in that finale. I'll get into my reasons why in the recap and after. And I may just change my mind along the way. Guess we'll all just have to read on and find out!
Before we get to the recap let me just throw one large complaint out to the American Idol team and/or FOX for making the top 3 show 2 hours! Ummm, total waste of time. I know I know, FOX had no programming to air from 9:30-10:00 but come on. Did we really need to see extended audition footage again of each contestant? Did we need Beyonce's crazy music video that resembled something out of a Lady Gaga wardrobe malfunction? Did we need to find out who won each round? Something usually reserved for Finale Week? The show has been done before and should have been done in an hour. But, we should get used to it. X-Factor will be following the same 1.5 Hour Performance, Hour result shows in the fall. (Same nights too, Weds and Thursday) That's just the new FOX model. But 2 hours?? That's pushing it Fox!
Okay, to the recap!
Scotty McCreery
1.) Scotty's Choice: "Amazed" by Lonestar
2.) Jimmy's Choice: "Are You Gonna Kiss Me or Not?" by Thompson Square
3.) Judges' Choice: "She Believes in Me" by Kenny Rogers
There really isn't much left to say about Scotty. He does what he does out there. He is poised, he is polished, he is young. He has charm, he has a deep voice, he has personality and he showed it on all 3 songs. "Amazed" was typical Scotty. He did his thing and it was enjoyable. The Thompson Square was a nice choice by the judges. Although, I missed having the female lead harmonizing with him (even though she looks ridiculous with that skunk hairdo of hers)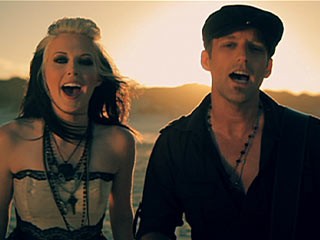 umm pick a color and stick with it!

I agree with the judges though, he was showing some real maturity in his expressions (facially and vocally) in the choruses. By the time he got to the Kenny Rogers tune, it was already set in stone that this kid will be in the finals. We have known for weeks. He has just been having the time of his life and we've been enjoying it right with him. Something would be wrong if he wasn't there at this point.
Lauren Alaina
1.) Lauren's Choice: "Wild One" by Faith Hill
2.) Jimmy's Choice: "If I Die Young?" by The Band Perry
3.) Judges' Choice: "I Hope You Dance" by Lee Ann Womack
Oh Lauren, I'm still a fan but I just don't know!! I really did think she did great tonight, but we all know she has been missing the big moment. She has always needed that moment to sell us on her stardom. I think she has star potential, but she's just too young to realize it. But, I'm not counting her out of the finale just yet. I was still inspired to vote for her a multitude of times. Anything to keep Haley at bay. Ugh. Anyway, song 1 was great. You could hear that great voice in there, it was just missing POWER! Sometimes she'd be drowned out by the band. My wife commented that she needs to work on her breathing. It's a good point and something most people take for granted in singers. That breathing stuff is important!
I really thought she was going to have her moment with Jimmy's choice. The Band Perry are up and comers in the Country world but have had a smash hit with "If I Die Young" ("You Lie" isn't too bad either if you're looking for some good downloads). When Lauren spoke about the song in the interview, I knew she got it. She knew how the song needed to be sung and it worked perfectly for her voice. She was singing it great. Maybe J-Lo was right and she just got caught up in the moment. But missing the key change really screwed her up from there on out. She was screeching some of the high notes. But gosh darn it if she wasn't so cute when she talked about missing the key change! In fact, she said "DARN IT!" That charm goes a long way folks and I hope it's in her corner when people vote tonight. I also hope people dance!! Song 3 was also very good for Lauren. Her voice is beautiful, and like I said, it's just missing an ounce of power behind it or something. Because I'm still hungry for a moment from her. But, is it too late? I just don't know. I have given up trying to figure out the voters besides highly favoring Scotty throughout the competition!
Haley Reinhart
Yep, I'm constipated again. Anyone got a cookie? num num num num!!!
1.) Haley's Choice: "What Is and What Should Never Be" by Led Zeppelin
2.) Jimmy's Choice: "Rhiannon" by Fleetwood Mac
3.) Judges' Choice: "You Oughta Know" by Alanis Morissette
Ugh. Do I have to talk about her? In all seriousness, I really thought Haley WAS in it to win it tonight. And if it wasn't for the fact that I can't stand her, I might actually have been impressed with her efforts tonight. But, that attitude just kills any kind of buzz I might have been feeling. Yeah, that was kinda cool that she got to get her dad to play with the band on the bold Led Zeppelin choice. I also thought it was kind of an unfair "voting" advantage to appeal to Dads out there with daughters that they'd like to jam with on
stage. And Haley was actually doing a really good job on the track and then it happened. I don't care how much the judges downplay it, Haley falling flat on her face was HYSTERICAL! Almost as funny as Cam falling into the kiddie pool on Modern Family tonight! She asked for it with wearing those shoes and prancing around the judges like she owned the place! My wife and I were laughing for the remainder of the song all the way until Randy started critiquing and didn't mention one word of it!
Yeah yeah yeah, the show must go on. I've been there, I've played through mistakes before! But come on, falling down is FUNNY and it totally takes precedence over the performance at that point. It's all anyone can think about. Will it hurt her in the votes? Eh, probably not. In fact, it will probably encourage VOTEFORTHEWORSTers to vote for her more.
Love the Fleetwood Mac song. Great choice by Jimmy (who made great choices all around). But, it also didn't do her any favors in the 2nd half when there wasn't much to sing. Just watching her sway around with the wind machine was ridiculous. I felt like we were in the middle of an 80s video. Speaking of which, has anyone seen the LITERAL VIDEO of
Total Eclipse of the Heart
? If you're not peeing your pants by the end, then you must have used the facilities before watching! Yes, I exaggerate but it's still really funny!
And the Alanis pick by the judges? Eh. The first thing I thought of was that Crystal did it last year and I remember she had to change the lyrics to a part of the song in order not to offense the family audiences of American Idol. Haley used the same lyric but she also did a carbon copy of the Alanis rendition of the song. Nothing really that impressive. Yeah, she can do a raspy chorus. Wooo. So can a lot of people. Don't get me started on the verses. She rambled right through them and you could not make out anything she was trying to sing. This is something she does a lot. I guess she thinks its artistry and part of her schtick, but come on, enunciate! Don't strand words together and leave out consonants that start words! It's ridiculous! It's irritating! WHY ARE YOU STILL HERE!?!?!?!? Why are you probably going to be in the finale!?!? Ugh. I'm at a loss.
And that brings us to here folks. Here's the big question. Can 2 country contestants make it to the finale? Or will the voters be split between them? Even if the fans love them both, then they're probably voting for both and someone loses out. I can't see Scotty losing out, can you? I'm not saying Lauren has done enough to earn herself the #2 slot in the finale (in comparison to past season), but I also think she has a great charm about her and a very nice voice. She's just very young but has potential to be really really good. But, Haley has 2 things going for her. Vote For the Worst AND Country Music haters. With James exiting, she appealed to the Rocker vote this week by pulling in a little Led Zeppelin into her playlist. I guess we can throw the Alanis song into that grouping too. Of course, the fact that I can't find much to say about Scotty probably means that I think he's TOO safe, but I'm not even going there. He's definitely in. So it's one of the girls.
So, without knowing how this is going to go down and just having hope for how I want it to go down, I'm going to go with some reverse psychology with my pick.
Elimination Pick: Lauren Alaina - It breaks my heart to even put her name here, but maybe it would be better to see her leave tomorrow than to see her get so close to the end only to have Scotty win it all. I really hope that my pick gives a little superstitious luck to her and boots that arrogant curly haired cookie monster from the show!
And that's all I got folks. Tomorrow night we'll be treated to the trio's hometown visits. I already know what is in store for Scotty as I watched a little bit of it on streaming video. Let's just say that my finale results show performance prediction came true a little earlier than expected. ("Baby lock dem doors!") But I'll discuss that in the comments after Thursday's results! Sorry that I was out of town and unable to comment much after the recap was up last week. Don't you worry, I'll be here for this week's discussion!
And don't forget, next week's performance show is back on TUESDAY and the Season Finale is on Wednesday. I'm guessing May Sweeps ends on Wednesday so they're moving it up a day. Anyway, hope you enjoyed my ramblings as always and I'll see you next week!